Roll-Off Containers
10 YARD
LOWBOY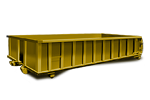 This dumpster is specifically designed for heavy materials like concrete, asphalt, brick, tile, dirt, and sand. It has a low profile for easy loading of these materials.
---
2' Height
---
8' Width
---
16' Length
---
Request Quote
25 YARD
LOWSIDE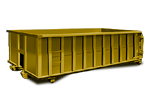 This dumpster accommodates any sized residential or commercial project. At a height of 4 ft, it's easy to load, such as interior remodeling and other interior projects.
---
4' Height
---
8' Width
---
20' Length
---
Request Quote
40 YARD
HIGHSIDE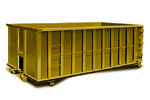 This is the largest of all our container dumpsters. It is ideal for larger interior home renovations, household cleanups and commercial construction.
---
6' Height
---
8' Width
---
22' Length
---
Request Quote
Choosing the Right
Roll-Off
Homeowners, builders, contractors and developers require the right container so you can meet your goal without headaches. We'll work with you to select the right container and service frequency to manage your waste removal for your operation.
Roll-off containers are suitable for larger refuse producing businesses as well as home improvement projects like remodeling, or renovation. Roll-offs are serviced on an on-call or scheduled basis and are charged per call for collection of refuse or recyclables. Great for large clean-up, spring/winter clean-up, remodel work or a new construction or demolition jobs. In addition.
Roll-Off

Rentals for all Projects
Kitchen remodels, Garage Clean ups, landscaping projects, or just removal of bulky items are just four of many reasons why you may need to rent a dumpster or roll-off container. We offer prompt dumpster rental solutions for your needs:
Variety of roll-off sizes for every project
On time delivery and pickup
Cleaner Containers
Daily, Weekly, Monthly, or on-call scheduling
Family owned and operated
Dedicated customer service
We have the services you are looking for